Biographie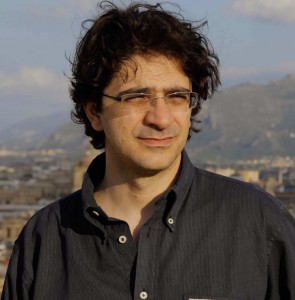 (Palermo). Already as a teenager Salvo is particularly interested in movies and video. In 1994, he realizes his first short film and forms a group together with others 12 videomakers. In 1999, Manzone graduates with honours in Microelectronic Engineering inPalermoUniversity. At same time, he follows various workshops in cinema and film direction withRaul Ruiz, Abbas Kiarostami, Wiseman, Johan Van der Keuken, Daniel Ciprì and Franco Maresco. Some first- documentaries are the result
Since 1997 Manzone is living in Paris where he works as a director (Epinoia, One Planet, Zalea TV, Cinico Cinema), as well as in the audiovisual field as engineer (Multithematiques, CMC, Imagine, Kinomai, Artsum), translator (CMC, Titra, Festival of Venice, University of Bologna) and trainer (IIFA, France3, France2, Université de Nantes, Val de France).
In 2001, he launches Epinoia, an association of young video-makers for the production of documentaries (collaborations with Planète, RAI3, France 3). See www.epinoia-prod.com
Manzone has been working with the independent national French television Zalea TVsince 2005, as a cameraman, director, conductor and producer  in the field of  mediactivism. (www.zalea.org )
He has acquired expertise in many different domains, such as author, director, cameraman, editor, post production and DVD edition, subtitles, distribution, etc..
His most representative work so far has been a documentary on Italian musician Claudio Lolli, When music saves your life (2002, DV, 64 '). Its DVD will be re-edited and distributed by Ermitage. Moreover, a documentary about Italian singer Giorgio Conte is in editing.
In 2008-2009, he worked in Palermo as an assistant producer for a documentary film by Franco Maresco about the American-Italian clarinettist Tony Scott.
Filmographie
2016    Canals and men, (20′), documentary about gravitational irrigation canals in Briançon.
2015    Intangible Cultural Heritage (ICH) : a source for a sustainable development, project produced by Ministry of Culture and Communication, composed of 7 cards et 3 films.
2015    Zero Waste in Gipuzkoa, An investigation by Trash TV (12'), commissioned by Zero Waste Europe
2014    Waste Side Story, web documentary about waste prevention inEurope. (WIP)
2013    Banana Peels Cruise (27′) Aimée, a kind old French lady who lives onStromboli, fights for a good waste management.
2012    Colapesce is Back (52′), An environmentalist tries to understand why objects turn into waste        and he sends his diary as video-letters fromSicily to Colapesce, a mythic young environmentalist.
2010    Giorgio Conte, the Italian singer, produced byStorie di Note, (In editing)
2009    Let's be different! (DV, 7) Video for raising public awareness of the problems connected to waste separation inPalermo. Collective work of ilgrillodipalermo.
2008    Unofficial Video Maker for the ilgrillodiPalermo: Video of the Shows ofBeppe Grillo,of the activities and of presentation of the MeetUp for the Tour "Delirium."
2008   As co-author and assistant director
Sans Crier Gare en Sicile, Un monde sans mafia byJean Marc Sanchez, un episode of TV format  Les Nouveaux Explorateurs, One Planet, Canal +
2007    Let's refuse them with intelligence (DV, 30) Video-documentation of a conference on recycle and incinerators.
2006    Mosaic Colour Video workshop with pupils of the college Léon Blum, on a huge district in Villiers-le-Bel, in the north suburb ofParis, promised to the renovation. With the support of Val de France, College Léon Blum, DAAC Academy Versailles. Realization of the DVD, regrouping the 4 shorts realised, distributed in 1000 copies.
2006    We left at 6! (DV, 15′). The pupils, who are writing a text on the deportation during the Second World War, are meeting their witnesses.
Realization of a DVD with subtitles in German, English, Italian, distributed in 1000 copies. With the support of: FSE, DAAC-Ile-de-France, Council Général of Val-d'Oise.
2005    "Michel Capelier, 24 ans à la tête du Conservatoire du 8ème Camille Saint-Saëns" (DV, 26min) Documentary commissioned by the Conservatory of 8th district of Paris on the occasion of the retirement of his director.
2004    Three hours of lessons less (DV, 10′) Documentary commissioned by theEveil association about how citizenship is being taught at school.
2003    The lollians' album (DV, 15′) Short documentary about the Italiansinger Claudio Lolli, on the basis of testimonies recorded frompeople who admire the singer and his work.
2002    Claudio Lolli: when music saves your life.(DV, 64′).
Portrait documentary of Claudio Lolli, the great Italian songwriter, but also intellectual and poet, converted into  the singer of '77 Movement par excellence in the 1970ies. Lolli has continued on his own artistic way far from limelight until today. See the web site of the movie: http://www.epinoia-prod.com/lolli.htm
2001    Shakespeare, un regard soufi  (DV, 65′ ) video of theAli Ihsan Kaleci's performance.
1999    Zat, Les contes Soufis (DV, 10′ ) video of theAli Ihsan Kaleci's performance.
1998    Futurist sparks (Hi8, 30′) video of Enzo Caputo's performance.
1995    Naked digressions about "Prohibited to enter in Russia" (Hi8, 10′) experimental video inspired by Godard's "Introduction to the true history of cinema" and by Raoul Ruiz's lessons.
1994    A million of people (Hi8, 20′) documentary about a trip toRome of a young group of communists who participated in the march against Berlusconi government's financial policy.
1994    Why? (Hi8, 30 sec) Short: "Dialogue" between a Zen master and his disciple.